A Personal Testimony About The Baptism in the Holy Spirit
by Fr. Harold F. Cohen, S.J.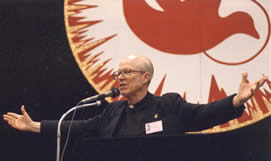 I

remember that when I was a youngster my father used to refer to a book entitled Life Begins at Forty. Well, for me, life actually did begin anew at forty. It was on my fortieth birthday that I was giving a retreat for college students from Loyola University in New Orleans. After the night's activities I slipped away from the students and walked outside by myself. I was dissatisfied with my life as a priest because I felt I wasn't praying as I should. I also knew I was too self-centered. As I walked, I asked the Lord to change me because I knew I couldn't make the necessary changes on my own. I reminded the Lord about His promise in Ephesians 3:20, "His power working in us can do infinitely more than we can ask or imagine."
Some months passed and one day a young man named Jim came from Fordham University in New York to see me. He was being interviewed as a candidate for the Southern Province of the Society of Jesus. I was one of the interviewers. Jim belonged to what was then called a Catholic Pentecostal prayer group at Fordham. I had read about Catholic Pentecostals in 1967 and was intrigued. Even though I desired to go to a prayer meeting some day, I suspected that I would feel somewhat threatened by it. I pictured myself standing on the fringes observing.
When I first met with Jim, I decided to talk about the pentecostal movement in the Catholic Church just to break the ice. This was Good Friday, 1969. Afterwards I conducted the interview for the Jesuits. When we got together again on Easter Monday I asked more questions about the Baptism in the Holy Spirit. Jim explained that he didn't consider it another sacrament. This relieved me greatly because I was beginning to desire the Baptism in the Holy Spirit for myself. Even though my questions started out of curiosity, before long I found I was seeking God. As I listened to Jim I quietly asked the Lord in my heart if this experience was meant for me. It seemed to be of God so I said, "Lord, give me the guts to ask."
I finally worked up the courage and asked Jim to pray over me. He was only too glad to do so. He told me to renew the commitment to Christ that I had made when I took my vows as a Jesuit and when I was ordained. I did this, then he prayed for me. Honestly, I was hoping I'd have a great experience of God at that moment. But all I experienced was feeling rather silly having this college student pray over me. I remember that Jim prayed in English, then he prayed in tongues and again in English. Afterward, we took a walk and prayed the rosary together. Nothing extraordinary seemed to have happened, but my whole life changed as a result of that day.
When we parted, I sensed God's presence in a gentle way. But later that night when I went to pray in the chapel, I felt a depth in prayer I hadn't experienced in years. From that time on, my prayer changed considerably. As a priest this is what I was longing for. I have been much more faithful to seeking God in prayer since receiving the Baptism in the Spirit. This has been a tremendous grace in my life and in my priesthood.
Since 1969 I have seen a number of effects of a new fullness of the Holy Spirit in my life. The main effect is in my ministry. Before the Baptism in the Holy Spirit, I often felt I was trying to minister out of my own strength. I realize that now the Lord is doing more and I am doing less. His power and His gifts are more of a reality in my life. I feel that through my ministry, the Spirit has touched many people to commit their lives to Jesus Christ as Lord. He has used me to help people live out their Christian commitment in an on-going way.
After receiving the Baptism in the Spirit the Lord used me to start two large prayer groups in the New Orleans area. Doors opened for me to bring the Charismatic Renewal to various places in the Southern United States as well as Mexico, South America, Central America, Hawaii and Australia. I feel privileged to be a part of the great move of God's Spirit on the face of the earth today.
For the past several years I have experienced the leading of the Spirit in the area of media evangelization, both on radio and television. I now have my Closer Walk Ministries programs airing locally and nationally. My desire is to go to all the world on radio and television with the Good News of Jesus. Without the anointing of the Holy Spirit I could never minister in this way.
In my own personal life I feel the Lord has been working at continual purification. I have a long way to go, but I look to the future with great confidence and trust. I know God's grace is at work in me and that He will being to completion what He has begun.
A new life began for me at forty when I reminded the Lord about His promise in Ephesians 3:20. Let me close now with those words: "Glory be to Him whose power (which is the Holy Spirit) working in us can do infinitely more can we can ask or imagine!" ©1989,Proclaim His Marvelous Deeds, Patti Mansfield
What About You?
If, when you were reading this testimony, your heart was moved to want the same grace in your life and ministry as Fr. Cohen had, all you need to do is ask in faith for the Baptism in the Holy Spirit. God will respond.
Fr. Cohen loved to use the following example. One night he was fixing a glass of chocolate milk for himself and a fellow Jesuit. Fr. Cohen poured some Hershey's chocolate syrup into the glass and it went straight to the bottom of the glass. He handed his friend a spoon and said, "You've got to stir it up." Immediately he realized that he had before him a simple illustration of the Baptism in the Holy Spirit! The Spirit is in us by virtue of our baptism and confirmation, but He needs to be stirred up.
"If anyone thirst, let him come to Me, and let him drink who believes in Me. As the scripture has said, 'Out of his heart shall flow living water.' Now he said this about the Spirit which those who believed in Him were to receive" (John 7:37-39). "If you then, tho are evil, know how to give good gifts to your children, how much more will the heavenly Father give the Holy Spirit to those who ask Him!" (Luke 11:13)
Fr. Cohen writes, "The Lord teaches us that we must thirst for God, we must desire more and more of His Spirit. Then we must believe that Jesus is faithful to His promises and will indeed give us His Holy Spirit. Finally we must ask God for the Holy Spirit. We must pray with perseverance…asking, seeking, knocking, believing that 'everyone who asks receives, and he who seeks finds and to him who knocks it will be opened' We can follow the example of the early Church by praying for the Holy Spirit in union with Mary and the apostles as they did at the first Pentecost (cf. Acts 1:12-14)…The gift of a new fullness of the Holy Spirit is, I believe, the grace of our age. 'Ask and it will be given to you!'" Thirst. Believe. Ask. Receive.
Father Harold F. Cohen, S.J.
November 30, 1928 – January 16, 2001
Dear Fr. Cohen
Please pray for all those who read this, that each one may be baptized in the Holy Spirit like you were. We believe that "the love of God is poured into our hearts through the Holy Spirit who has been given? (cf. Rm. 5:5). Just as you never ceased to ask for MORE, may each one reading your story receive MORE of God's love and bring that love to this world.  Amen and Alleluia!