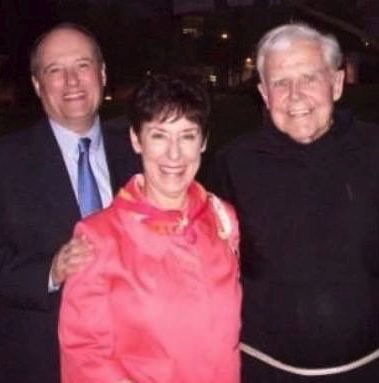 Fr. Michael Scanlan, TOR
I first met Fr. Michael Scanlan in January 1971, only 15 months after he had been baptized in the Spirit.  It was at a gathering in Ann Arbor, Michigan for leaders of the fledgling Catholic Pentecostal movement as it was called in those days. He was a vibrant, articulate priest who commanded attention and he had dared to embrace this new grace that was breaking into the Church. I had been present at the Duquesne Weekend in February, 1967, when the Holy Spirit fell "as by a new Pentecost."
Others may write about Fr. Michael's many accomplishments as President of Franciscan University; surely his natural talents were remarkable.  But I would like to honor him for the way he welcomed the Holy Spirit into his own life and allowed himself to be used by the Spirit in exercising the special charisms he received.
According to his own testimony, he had already been at the College of Steubenville as Academic Dean, working with all his skill to strengthen that institution.  But in spite of his best efforts, the College was in decline.  If the man, Michael Scanlan, could have turned things around in Steubenville, he would have done it then.  He went on to be Rector of St. Francis Seminary and describes his frustrations and insecurities in that position.
One October day in 1969, three men visited the campus and witnessed to the life-changing power of the baptism in the Spirit. They were Fr. Jim Ferry, Joe Breault and Bob Conlin (all dear friends of mine from New Jersey).  Fr. Mike was hungry and thirsty for more of God. He knelt down and declared, "I want to be baptized in the Spirit."  The visitors laid their hands on Fr. Michael and prayed.  In his book, Let the Fire Fall, Fr. Michael describes what happened next.
"The Spirit fell.  It was primarily an experience of prayer, but prayer unlike any other I had experienced or studied. I was lost in God, one with the fullness of life.  I wanted nothing more than to know God the way I knew him at that moment, intimately united to him.  I let myself go in praise and prayer.  God was all I had. He was all I wanted.  He was all I needed.  I knelt there for many minutes until I was asked to move so the discussion could proceed.  I sat in the corner and God immersed me in fire.  Later when I was asked to join in praying over someone else, I found that I couldn't pray in English. The words came out in some other language.  This, I learned, was the mysterious 'gift of tongues,' the ability to praise God in a prayer language one has never learned.  It came to me naturally. …(Later) I wrote this sentence down on the pad I kept near my bed, 'I know the presence of the risen Lord Jesus as I have never known it before…I can never deny the truth of what has happened.'"
My friends, it was this overwhelming experience of the "the love of God poured out in his heart by the Holy Spirit" – this baptism in the Spirit – that changed the man, Michael Scanlan forever  (cf. Rm. 5:5). It was this radical opening to the Spirit and his charisms that enabled Fr. Michael to transform the College of Steubenville into Franciscan University, known throughout the world as the best in Catholic education.
In 1974 Fr. Michael hired Karin Sefcik (Treiber), another attendee from the Duquesne Weekend, to work in Admissions at the College of Steubenville. She came to New Orleans the next year to promote the college at our prayer meetings.  Al and I had just had our first child and my husband told Karin, "I don't know where Mark will go to kindergarten, but I know where he will go college!"  Why?  Because of Fr. Michael and the strong, courageous, Spirit-filled leadership he exercised on campus.  All three of our sons and their wives are graduates of Franciscan.  For almost 25 years, through the Catholic Charismatic Renewal of New Orleans, we have sent hundreds of teenagers to summer conferences on campus (sometimes five busloads at a time on a 21 hour trip).   Why?  Because Fr. Michael allowed the Creator Spirit to create an environment where Jesus is truly Lord and where the gifts of the Spirit can flourish.
For me, Fr. Michael's outstanding charism was prophecy, often expressed in his preaching.  Those of us who have been pioneers in the Renewal remember his prophetic talk in 1976 that began, "The lion roars, who will not tremble? The Lord God speaks, who will not prophesy?"  I remember at the 25th anniversary of the Charismatic Renewal we were at a conference and for some reason I was on the stage and Fr. Michael was in the audience of 17,000 people.  As I looked out, I saw a shaft of light shining down and resting on him.  When I met him later I said, "Fr. Michael, you have a prophetic word," and he replied, "It's in my pocket".  Indeed it was.
Fr. Michael not only exercised charisms but he was magnificent in calling forth gifts in others.  In my own life, it was he who encouraged me to write my first book for which he contributed the forward.  It was he who coached me how to communicate on television.  It was Fr. Michael who invited me to minister to priests at a summer conference and to exercise a teaching ministry.  At one summer conference he stopped his preaching and said, "I don't have the end of this homily. Does someone else have it?"  I sheepishly raised my hand and stepped forward to speak about consecration to Mary.  Afterwards Fr. Michael said to me, "You did have the ending of my homily! That was the word!"  When Fr. Michael deepened his own entrustment  to Our Lady and began to wear a rosary ring on his pinky, I heard a priest say, "If Michael is doing this, I want to do it too."  The power of his word and his example was remarkable.
What a beautiful sign of the triumph of God's grace, that a man who was left by his own father at the age of three, should become a father to a multitude of sons and daughters.  He became a father who was  "strong, loving and wise."  It is fitting that the heavenly Father has called Fr. Michael home in this year of Golden Jubilee for the Charismatic Renewal.  He has been one of the greatest instruments of the grace of baptism in the Spirit in the past fifty years.  His influence is felt not only at Franciscan University, but in the lives of the millions of people around the world who have been inspired by his teaching and his life of holiness and prayer.
Pope Francis commissioned the Charismatic Renewal at a gathering in Rome in 2014, "Share with the whole Church the grace of the baptism in the Spirit."  Fr. Michael has done that in a superb way. To those who love and admire this man, please discover his secret.  Let the fire fall!  Let the grace of the baptism in the Spirit invade your life too.  Let yourself be guided by the mysterious and powerful breath of the Spirit of the Living God!  Amen.
Patti Mansfield
Click Here for More Information on Fr. Michael's Passing
(Live Streaming Available)