Fr. Harold F. Cohen, S.J.
Jesuit priest. Pioneer in Catholic Charismatic Renewal worldwide. Founder of Closer Walk Ministries. International Spiritual Advisor for Magnificat Ministry to Catholic Women. Promoter of the Divine Mercy Apostolate. Pro-Life Advocate. Promoter of Marian and Eucharistic Devotion. Proclaimer of John Paul II's message of hope. Spiritual father, Counselor, Confessor to multitudes. Dear friend to all.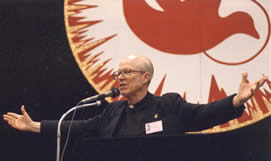 The Spirituality of Fr. Harold F. Cohen, S.J.: To the Father, Through the Son, In the Spirit by Al Mansfield Transcript: Holy Spirit Novena, Our Lady of the Lake Church Mandeville, Louisiana, May 25, 2001 Introduction: Thank you for inviting me to be a speaker at the...
read more