Fr. Harold F. Cohen, S.J.
Jesuit priest. Pioneer in Catholic Charismatic Renewal worldwide. Founder of Closer Walk Ministries. International Spiritual Advisor for Magnificat Ministry to Catholic Women. Promoter of the Divine Mercy Apostolate. Pro-Life Advocate. Promoter of Marian and Eucharistic Devotion. Proclaimer of John Paul II's message of hope. Spiritual father, Counselor, Confessor to multitudes. Dear friend to all.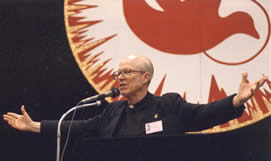 by Harold Cohen, S.J. Prior to His ascension Jesus told His apostles, "Before many days you shall be baptized with the Holy Spirit." He added, "You shall receive power when the Holy Spirit has come upon you; and you shall be My witnesses" (Acts 1:5-8). The Apostles...
read more